The Novaliches-Balara Aqueduct 4 (NBAQ4) Project shifts to a renewable energy source through the 140 MW Bacman Geothermal Power Plant last 26 February 2021. In a contract signed in February, the NovaBala Joint Venture Corp. (NBJVC) entered into an agreement with First Gen's Bacman Geothermal, Inc. for the supply of 900 kilowatts of electricity per month to the project facility in Quezon City.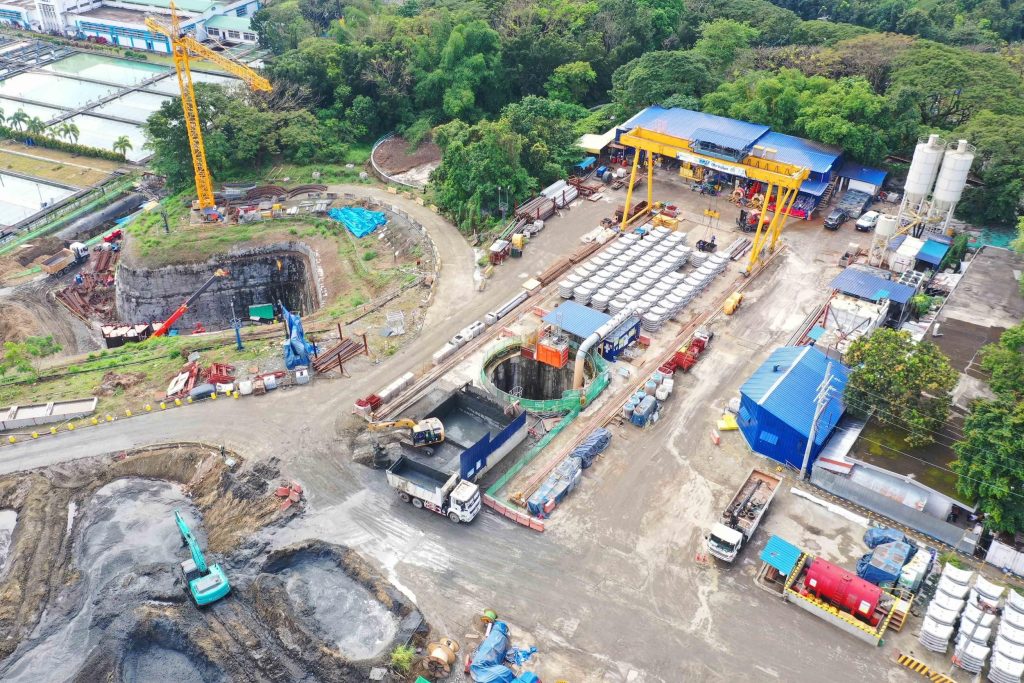 NBAQ4 Commercial Manager Nigel Jackson shares, "Transitioning away from conventional energy sources to clean energy was driven by the JV Board, at the inception of the project as an economically smart choice." The initiative was a joint effort between NBJVC and First Gen whose teams worked determinedly around the clock to facilitate the changeover. "In addition to saving money, it also helps reduce dependence on fossil fuels and that is absolutely critical to protecting the health of all Filipinos, now and for generations to come", he adds.
Consuming an average monthly electricity of 350,000 kilowatt hours, the project spends almost PhP 2.4 million on its electricity costs every month. With the transition, savings is forecasted to be as much as PhP 3 Million. In terms of greenhouse gas emissions, First Balfour Pollution Control Officer Jennifer Padillo shares that its annual energy consumption is equivalent to 2,970 metric tons of carbon dioxide comparable to the energy use of 343 households in one year.
More of videos like this on our official YouTube channel at First Balfour.
One of the largest and most important infrastructure projects Manila Water Company, Inc. (Manila Water) has undertaken to date, the NBAQ4 project involves the construction of a new intake facility at the La Mesa reservoir, a 7.3 kilometer underground aqueduct passing under Commonwealth Avenue, and an outlet facility at the Balara Water Treatment Plant. A Tunnel Boring Machine (TBM) is being used to build the aqueduct – a first time in the Philippines a TBM is used in an urban setting. Project Manager Rod Scott shares, "Our tunnel boring machine and equipment are operating 24 hours a day consuming around 2 megawatts of power. To operate using renewable energy generated from the Bacman Geothermal Plant is without doubt a fantastic achievement. It is the right thing to do. This also paves the way in fulfilling our parent company's mission of "forging collaborative pathways for a decarbonized and regenerative future."
Project completion of the NBAQ4, which aims to deliver bulk water from the La Mesa Dam to Balara in Quezon City, is at 77%. Tunnel excavation is nearing the 5-kilometer mark and is expected to be completed in early July, allowing tunnel breakthrough in the third quarter of 2021. Once completed and commissioned, the new aqueduct will be capable of delivering 1,000 million liters per day (MLD) to treatment plants, ensuring the reliability and security of its raw water transmission system. NBJVC is composed of CMC di Ravenna (Italy), First Balfour (Philippines) and Chun Wo Engineering (Hong Kong). In August 2017, it signed the design-and-build contract for the aqueduct project – a collaboration among Manila Water, Metropolitan Waterworks and Sewerage System, NBJVC, and Arup.