Twelve years ago, First Balfour was able to transform an old and abandoned manufacturing facility along Sucat Road into a sprawling one-hectare property lush with endemic native trees and healthy foliage. As the anniversary month of our Paranaque City headquarters comes to a close, we thought it was timely to introduce you to the Head Office's growing flora and fauna.
Although the compound maintains a wide open space decked with native trees, endemic birds could hardly be observed in the area when employees first moved in in July 2011. The sightings of local avifauna were still quite rare then even with a number of large trees on site. In December 2016, to attract common bird species, nesting baskets and tray feeders were placed atop these trees. And in recent years, bird sightings within the facility have become more and more frequent—an outstanding indicator of our continued efforts towards maintaining a green building.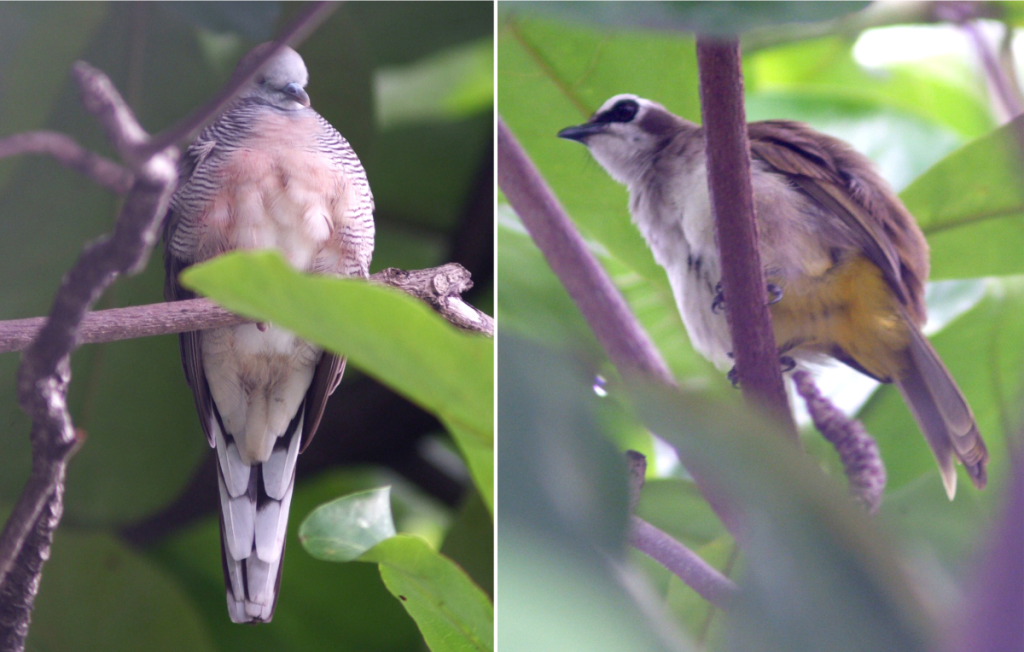 The Zebra Dove (left, scientific name: Geopelia striata), locally known as bato-bato, is the most commonly seen wild dove in the Philippines. It is named for the stripes found on its neck and is often found foraging on open grassy areas. Meanwhile, the noisy Yellow-vented Bulbul (right, scientific name: Pycnonotus goiavier) is the second most common urban bird species in the Philippines next to the maya. It has a broad white eyebrow and yellow patch under its tail and is called luklak in the Tagalog region.
Aside from these birds, the facility also boasts of a rich urban flora. Native trees like the Philippine Mahogany (Toona calantas) and Talisay (Terminalia catappa) act as natural shade in the parking areas and provide visual barrier and sound buffers from the busy road networks adjacent to the buildings. First Balfour has also introduced colorful additions to its plant boxes with various flowering plant species.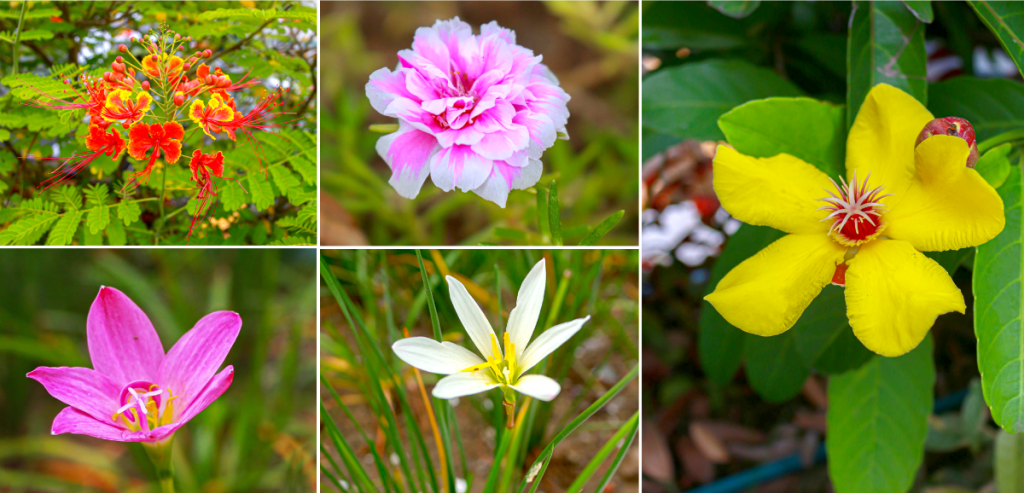 Here are some interesting facts on our flora: the peacock flower (Caesalpinia pulcherrima), also known as the Caballero or Bulaklak ng Paraiso, is a native here in the tropics. It is thought to have medicinal use as its leaves have anti-inflammatory and anti-microbial properties. The moss rose (Portulaca grandiflora) is called rosas de alas-diez because the flower is usually in full bloom at 10 o'clock in the morning! And lastly, rain lily plants (Zephyranthes robusta) are named such because they produce adorable blooms following rain showers.