In First Balfour, we believe that the Lopez Values lay the foundation for a strong company culture. In this article, we write about a pivotal initiative in our broader decarbonization roadmap—the Head Office's solar roof installation.
A manifestation of the Lopez Value of Pioneering Entrepreneurial Spirit, First Balfour was among the first to invest in such in 2016 and practice net metering in 2019. With its planned capacity expansion, it will be a critical component in our goal of achieving net zero emissions by 2050.
With its 1.4-hectare solar-powered headquarters in the south of Metro Manila, also the Philippines' first facility to be certified under the Building Ecologically Responsive Design Excellence (BERDE) green building rating system, engineering and construction firm First Balfour continues to ramp up efforts towards living its mission of forging collaborative pathways for a decarbonized and regenerative future.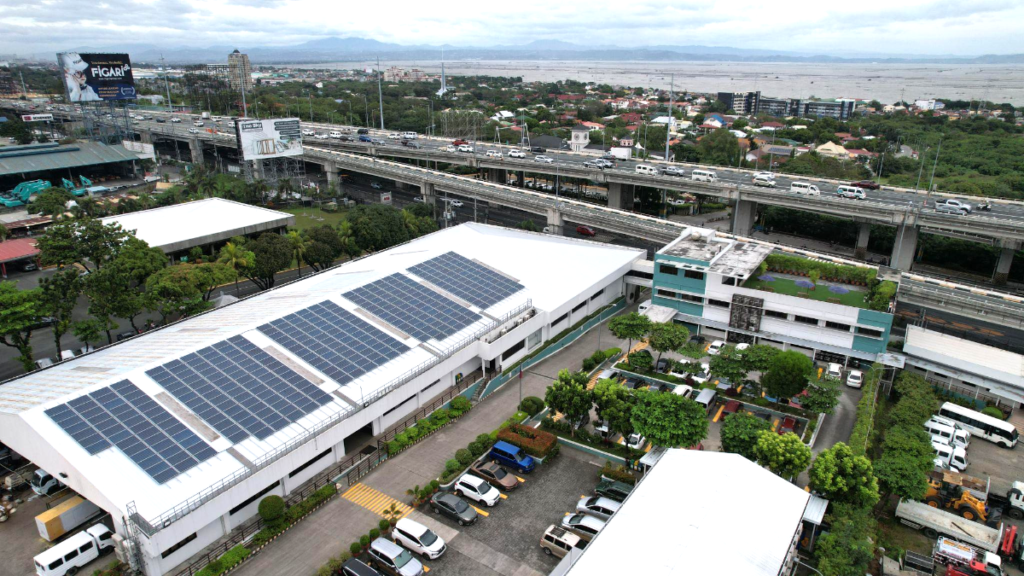 Powered by solar
Installed in 2016, its 100-kilowatt peak solar rooftop system comprises nearly 400 photovoltaic modules and now generates an annual average electricity cost savings of approximately 33%, equivalent to PhP 1.08 Million yearly. Since energization, it offsets an annual average of 30% of the facility's energy consumption and reduces carbon emissions by roughly 39.25 tons per year.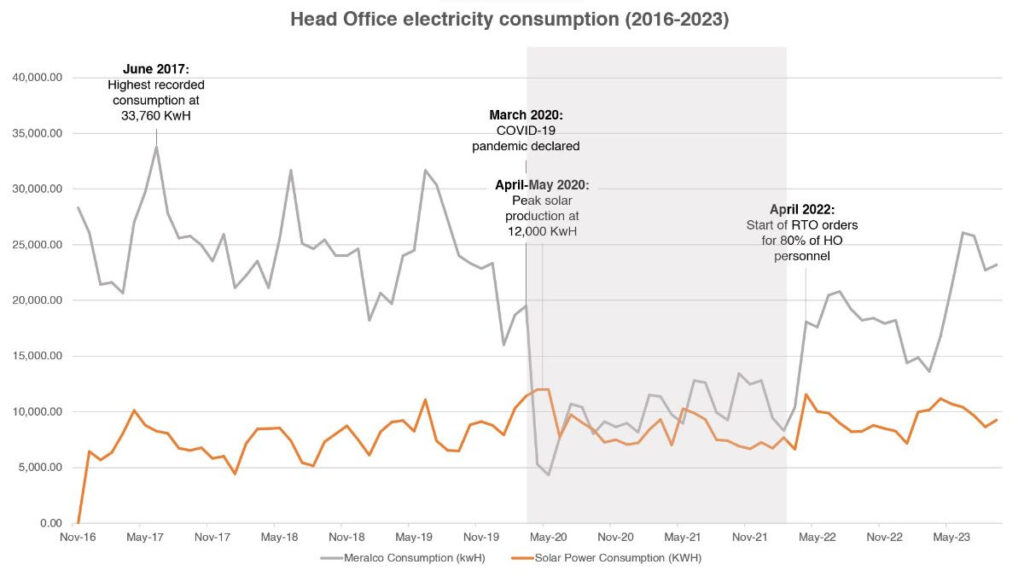 Head of TWG for Sustainability Vicente M. de Lima II shares, "The decision to adopt this solar strategy came alongside our parent company's decision to ditch coal for clean energy in 2016. While we have been implementing sustainability initiatives as early as 2010, the solar roof deck has been a huge indicator of the company's direction to embrace renewable energy."
How it works
Integrating solar power into a commercial building is a multistep process that begins with the installation of photovoltaic panels which convert sunlight into electricity. An inverter (see photo below) transforms this electricity into a usable form typically alternating current (AC). The system is equipped with meters and monitoring tools to track energy production and consumption.
For the past year, the head office has consumed an average demand of as much as 190 kW monthly. At peak hours (noon), the solar roof is able to supply almost 60% of the demand. During the weekends, when there are only a few employees onsite, the system is able to generate more than enough to supply the building's electricity demand. This excess energy generated is fed back to the public grid where it helps the supply of energy around the metro. To offset the energy costs we provide to the grid, our utility provider gives us bill credits in return. This process is commonly known as net metering.
It was in 2019 when First Balfour began exporting excess solar energy to the public utility power grid via net metering. As of 2022, it has so far exported about 105,440 kilowatt hours.
According to Building Administration Manager Jay-R Tactac, "The company spent over PhP 7.5 Million for this installation which we were able to recoup in March 2023. The payback period is a little over six years after energization, which is well within the average payback period of six to ten years." These solar panels can also retain around 80% generation efficiency for their average 25-year life.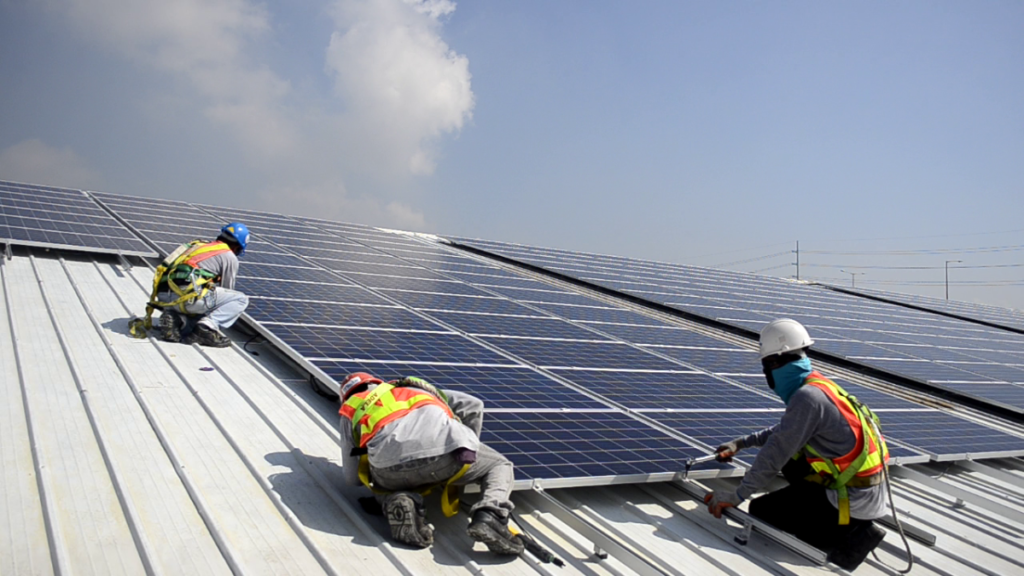 Expanding capacity
While the company has taken significant strides in harnessing solar energy and even contributing surplus power to the public grid, these efforts fall short of realizing its ultimate goal of achieving 100% renewable energy. To bridge this gap, First Balfour is planning to install an additional 100-kilowatt solar rooftop system to increase savings to as much as 70% of the Head Office's electricity costs.
Furthermore, various measures have been implemented to enhance the efficiency of the building's cooling and lighting systems. These initiatives encompass the deployment of LED lighting fixtures with motion-sensor technology, window films, ceiling ventilation systems, and inverter air conditioning units with centralized timers. Additionally, employees have created small but effective habits to conserve energy including lights off during lunch and scheduled air conditioner usage.
All these initiatives enabled the company to achieve the notable distinction of becoming the very first recipient of a BERDE certification in the Philippines, a rating system created by the Philippine Green Building Council with the aim of mitigating the detrimental impacts of climate change in the property sector.
Solar energy is a pivotal element of our broader decarbonization roadmap and the transition to a more sustainable future. Recognizing that harnessing solar energy is a critical component to reducing our carbon footprint, at First Balfour we see it as an essential step in fulfilling our goal of achieving net zero emissions by 2050.