Through the years, First Balfour has initiated corporate sustainability programs supporting two centerpiece elements—education and the protection of the environment—aimed at uplifting the quality of life of families and individuals in its host communities. Even with the challenges brought about by the global coronavirus pandemic, the company has continued to invest in various programs for its communities that reinforce our new mission towards a decarbonized and regenerative future.
In this article, we walk you through our most recent community initiatives, its impact, and the activities we have lined up for you in celebration of the upcoming National Arbor Day on June 25.
On Education
Aside from supporting public schools through Brigada Eskwela, Project WASH, and the donation of school supplies, First Balfour has had a successful run of its Project K12 which was established to support the Department of Education's K to 12 program. Since its launch in 2016, it has successfully engaged almost 300 senior high school students to take the technical-vocational (techvoc) track specifically on electrical installation and maintenance. Techvoc training sessions have been similarly carried out in its host communities in Sorsogon and Albay in April 2021. Through KEITECH, graduates of these sessions will be employed to fill in the personnel requirements for the ongoing Palayan Binary Power Plant Project.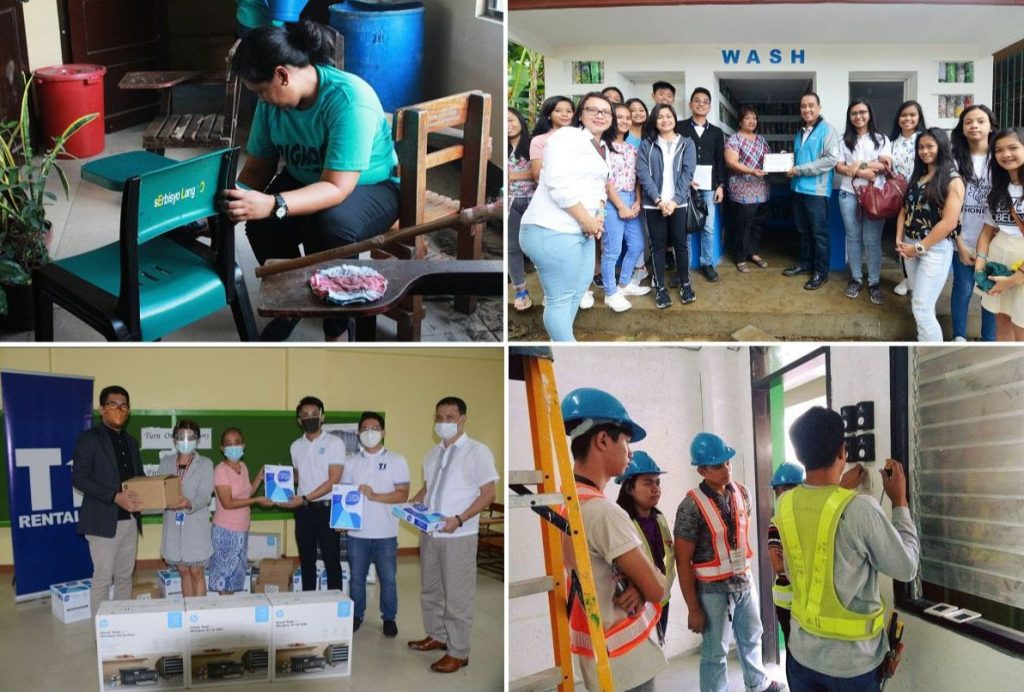 Just recently, First Balfour has gained another education partner in First Industrial Science and Technology School (FIRST School), another techvoc education institute aimed at preparing students for careers in the manufacturing industry. In early June, Human Resources announced this educational assistance for employees who have family members who may be interested to enroll in Grade 11. As of this writing, we have successfully endorsed 19 potential enrollees to FIRST School. Among them include the children of our utility personnel, leadmen, foremen, and carpenters.
Estimating Manager Juancho "Nhoy" Enales also signed up her daughter Jan Carlynn for FIRST School's Mechatronic Servicing course. "We chose to enroll her in FIRST School because of their Mechatronic Servicing program which will hopefully help her with Mechanical Engineering, the course she wants to take up in college. Their curriculum of combined theoretical and practical learning through their work immersion program is an opportunity I'd like for her to experience. Through this work immersion, I am confident that she will learn things that other senior high students will not gain in a usual classroom learning environment," he shares.
On Environment
In First Balfour, simultaneous tree planting activities have long been a tradition. Since 2013, we have had over a thousand employee volunteers planting almost 12,000 trees and seedlings in areas where we have construction operations. In celebration of the upcoming National Arbor Day on June 25, we have lined up a series of tree planting programs for you and your families to enjoy.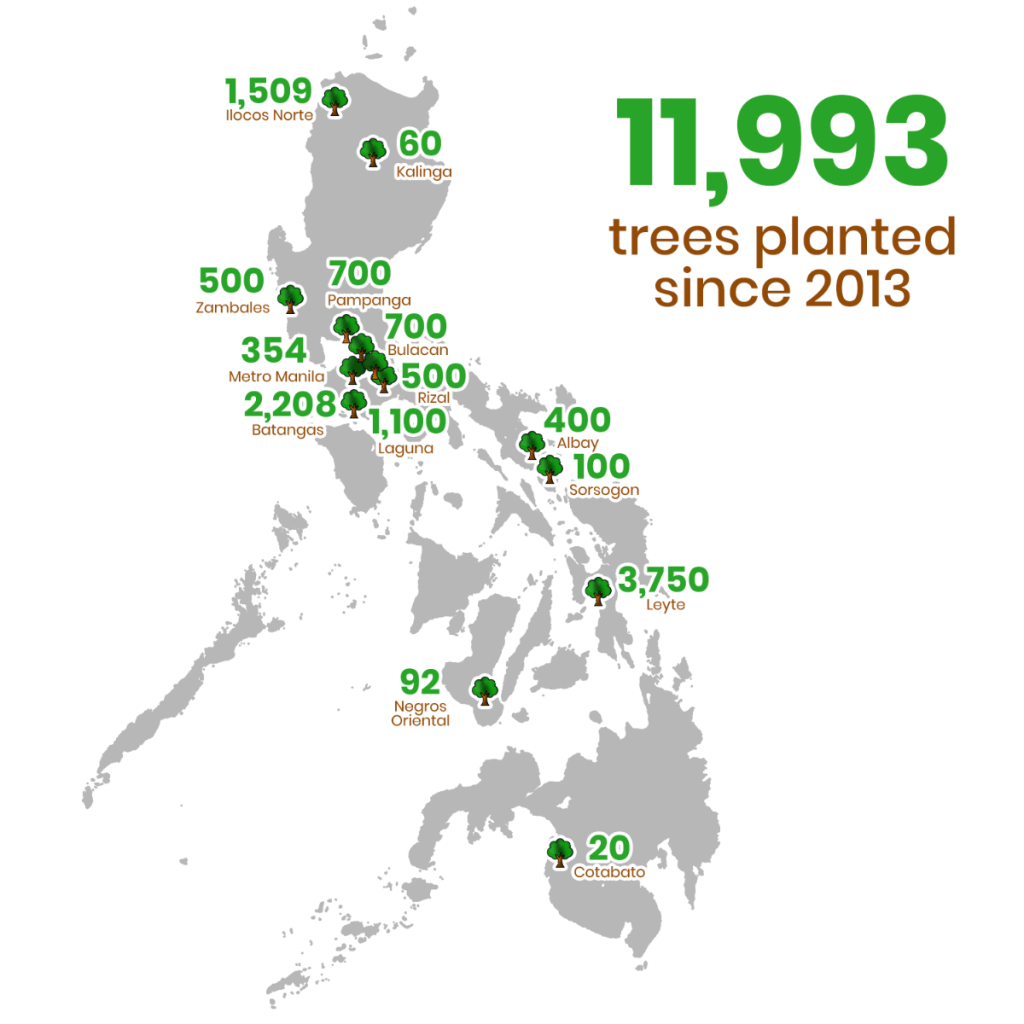 Community Plant-Tree
Inspired by the growing number of community pantries in the country, we have partnered with the Bureau of Plant and Industry so we can also give out free vegetable seedlings (patola, talong, mustasa) to the First Balfour community.
Adopt-A-Mangrove
It was in 2018 when we first partnered with the Lagadlarin Mangrove Sanctuary in Lobo, Batangas. The following year, we visited another mangrove forest in Lobo, the Olo-olo Mangrove Forest and Ecopark, to plant more mangrove seedlings. While most of us would have loved to join and continue this tradition for the third straight year, the pandemic got in the way.
As what we did last year, we ventured into our very first e-planting activity through First Gen's Adopt-A-Mangrove program. A total of 67 seedlings were adopted by 37 First Balfour employees who watched as their seedlings were planted by the locals of Olo-olo. This year, we are introducing yet another e-planting activity in both the Lagadlarin and Olo-olo mangrove sites.
As one of the leading engineering and construction companies in the Philippines, First Balfour is conscious of the impact its businesses bring to its host communities and the environment. This impact, including data on its carbon emissions, are among the information reported in the Annual Integrated Report of its parent company First Philippine Holdings. On its decarbonized and regenerative journey, Strategic Business Planning Head Macky de Lima shares, "In this journey, we aim to unlock the potential of our diverse talents to create a mission-driven organization that makes work fulfilling, fun, and that gives our people a deep sense of belonging. The active engagement of our people is key. The initiatives and activities lined up by First Balfour this upcoming Arbor Day will hopefully give our participating employees a taste of that sense of belonging to a group that is focused on doing the right thing for our environment and community."
On the value of meaningful volunteer opportunities and the impact it brings to our local communities, Head of Human Resources Carlos Pedro Salonga highlights, "One of my favorite challenges to our young engineers is to apply their engineering know-how and help solve a problem of a community where we operate. This challenge is meant to extend their field of influence beyond the confines of their jobs and be part of doing good. Not surprisingly, many of our young engineers answer this challenge. And when you ask why they exerted effort and time to respond, they often say that it is because it serves a higher purpose. It has become part of the identity of First Balfour."
He adds, "Our new mission to forge collaborative pathways for a decarbonized and regenerative future is exactly why we are who we are. It defines us as an organization that extends itself to uplift the lives of the various stakeholders and communities we interact with. And it does not have to be a single big act but a thousand small acts of selfless generosity. It is found in that ecobrick you painstakingly stuffed to the brim with plastic wrappers or that mangrove seedling you planted years ago. The bantigue that remains protected, the WASH facility for that school, and that rainwater harvester we built, all these are fibers woven into our FB tapestry that says: We are First Balfour and we build for good."