Energy Development Corporation (EDC), First Balfour, TESDA Region 5, and the local government of Sorsogon recently held the signing of a Memorandum of Understanding (MOU) to implement technical vocational (techvoc) training for the residents of EDC's host communities in Bacman through KEITECH.
Established by EDC, the Kananga-EDC Institute of Technology (KEITECH) Educational Foundation is a TESDA-accredited, post-secondary technical and vocational training center first formed in Kananga, Leyte in 2009. Its community-based training is now being offered in Bacman, still with the aim of developing multi-skilled, competent, and responsible workers particularly for the construction and engineering industry.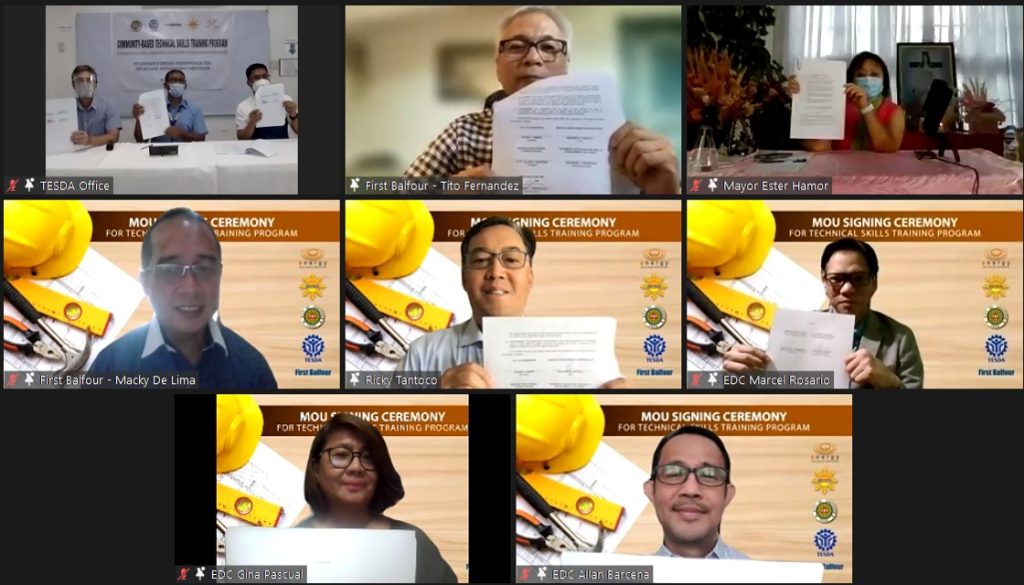 A total of 120 KEITECH trainees will undergo training for scaffolding works, shielded metal arc welding, and electrical installation and maintenance. In his message, First Balfour President Anthony Fernandez said, "The skills we are looking to develop through this program are very important in the construction industry. As you may know, despite the pandemic, there is still a lot of talk about infrastructure spending by this government. However, there are pockets of areas in the country where skilled labor is very difficult to find." This sentiment was echoed by EDC President Richard B. Tantoco (RBT) when he shared, "About twelve years ago, we had a simple dream of building a school in Kananga, Leyte. The opportunity that we saw was maraming kailangang gawin trabaho pero kulang sa skilled workers."
The first part of the training program, joined by 60 trainees from Sorsogon, has already begun in the Rizal Integrated National School in Sorsogon City on April 5 and will end by the second week of June. Another batch of 60 trainees coming from Manito, Albay will be joining the second part of the training program which will be held in the Community College of Manito from May until July. After the training, TESDA Region 5 will assess the KEITECH graduates for potential employment to First Balfour for its Palayan Binary Project manpower requirements.
"We will be uplifting the lives of so many families with children trained in both skills and values. Over 1,000 students, probably over 4,000-5,000 certifications, wala pa po kaming kahit isang hindi pumapasa and we intend to maintain this brand of KEITECH education," added RBT.
Awarded by EDC in November 2020, the Palayan Binary Plant Project is expected to boost the region's local economy as 70% of its target total manpower will be sourced from the provinces of Albay and Sorsogon. In her closing message, Sorsogon City Mayor Ester Hamor said, "This is an opportunity for our constituents to rise above economic challenges. With the assurance na kukunin at bibigyan ng trabaho ng EDC at First Balfour ang trainees, tiyak na maraming buhay ang magbabago."
This partnership on this community-based learning program to bring about good for the community where we operate is a testament towards the realization of our new mission-purpose: to forge collaborative pathways for a decarbonized and regenerative future.