By Inquirer
A future where people and planet thrive together. That is the goal of snacking company Mondelez Philippines, Inc. In recent years, the importance of waste management and sustainable living has been given much-needed focus in the news. In response to this urgent call for sustainability, Mondelez Philippines has strengthened its efforts around sustainable snacking with the unveiling of its recycled plastic play areas, installed in its adopted Joy Schools. 
With a purpose to empower people to snack right, Mondelez Philippines aims to provide consumers with the right snack, for the right moment and made the right way. Mindful snacking and sustainable snacking are two important components of "Snacking Made Right." Mindful snacking is about rethinking the experience of snacking. It means evolving the Company's snacking portfolio with more options; inspiring mindful snacking habits that focus on savoring each bite, and working in our communities to promote nutrition education, access to fresh food and active play. Sustainable snacking, on the other hand, is about creating resilient ingredient supply chains, reducing environmental impact and developing zero-net waste packaging.   
"Sustainable snacking means producing our snacks with less energy, water, and waste; sourcing our ingredients more sustainably throughout our supply chain," explains Mondelez Philippines Country Director Ashish Pisharodi. He adds, "Our recycled plastic play areas, which are made of eco-bricks, are one of the ways we bring to life our sustainable snacking goal. The play areas create alternative uses for packaging material, which would otherwise have been wasted. At the same time, they help enable students to play more and be active. In this way, we can reduce our environmental impact, and at the same time ensure that the students and our community become part of the cause of recycling as well."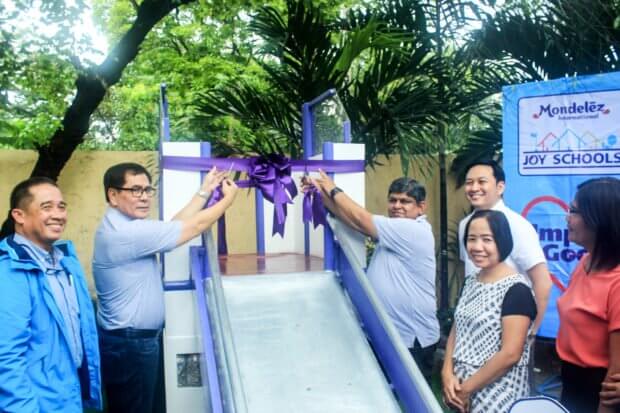 Bringing the Recycled Plastic Play Areas to Life 
Beginning in January 2019, Mondelez Philippines and its partners First Balfour, Inc. and the Philippine Business for Social Progress (PBSP), started to collect eco-bricks. These are plastic bottles filled with all kinds of shredded plastic. Each brick must weigh at least one kilo to ensure its strength for use as a building material. Employees of the Company, its partners, the students and community of the adopted Joy Schools all pitched in to collect the eco-bricks. At the end of March 2019, 990 eco-bricks were collected, which equates to 990 kilos of plastic packaging which have been recycled and put to good use. 
Afterwards, the eco-bricks were used as construction material to create the play areas. A total of three Joy Schools – public elementary schools which have been adopted by Mondelez Philippines for various interventions – will receive the recycled play areas. These are Camp Claudio Elementary and Rogelio Gatchalian Elementary in Parañaque City, and Holy Spirit Elementary in Quezon City.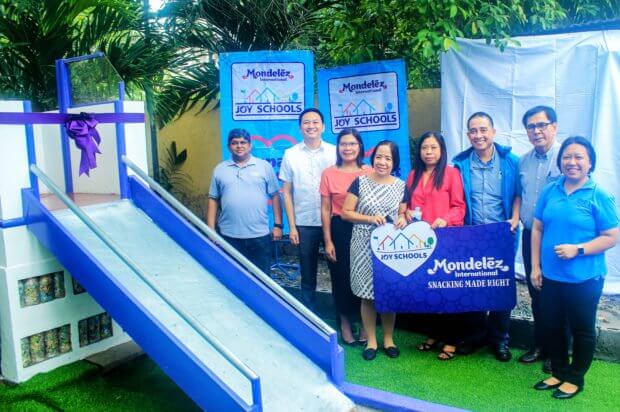 "The aim of this project is to encourage our adopted students and communities to contribute to post-consumer waste management," adds Pisharodi. "In our manufacturing plant in Parañaque, we also have several initiatives in place to ensure we reduce our waste and carbon emissions, and our use of energy and water. As of 2019, 98% of the total waste from our operations are either recycled or recyclable." Most recently the Company has switched to using 100% renewable energy through a partnership to utilize geothermal energy for its plant and office. The Company also has its own materials recovery facility inside its plant. 
"This is only the start for us as we move towards our global goal of 100% recyclable packaging by 2025," ends Pisharodi. "We have also partnered with the Philippine Alliance on Recycling and Materials Sustainability or PARMS. Through this program, the alliance of private companies has created a plastic recycling facility in Parañaque in partnership with the local city government. This facility will provide recycled plastic materials shaped into building bricks to the schools, for their facilities improvement."