First Balfour recently launched its Electronic Invoicing (E-invoicing) System to facilitate billing administration and help ease transactions for all its vendors. An initiative undertaken by the Procurement and Materials Management, Finance, and ICT Departments, a program rollout was conducted online last July 16 where 287 vendors were in attendance.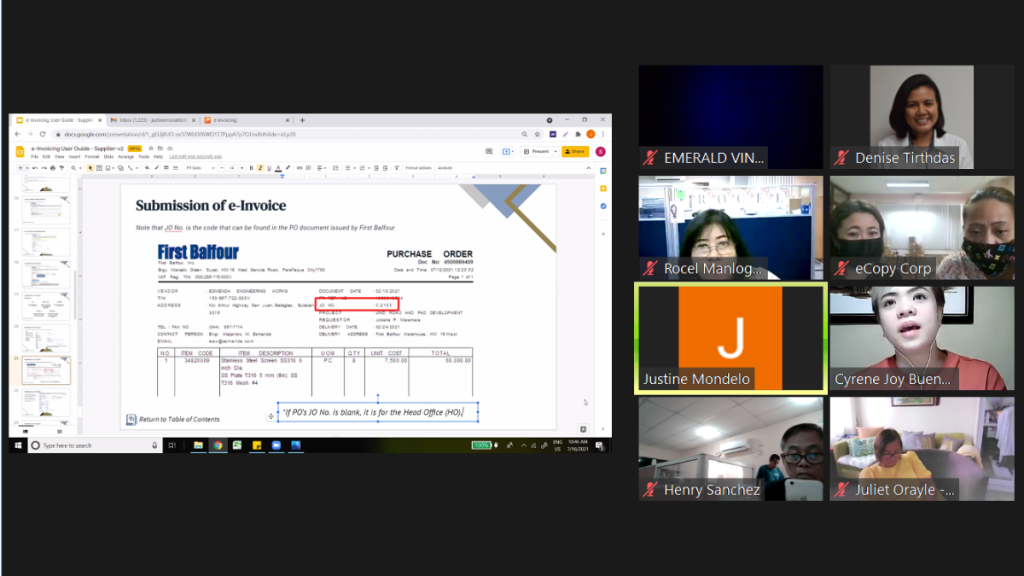 One of those in attendance was Pilipinas Shell Sales Account Manager Nina Quino who shared, "We appreciated the live demonstration of navigating the platform and the amount of time given for the Q&A. The rationale behind the transition to e-invoicing has been made clear. I believe digital is the way to go for most of us now."
During the rollout, Justine Mondelo of Finance explained in detail how a vendor can open an account, file an e-invoice for purchase order-based transactions, and monitor the status of submitted e-invoices via e-invoicing.firstbalfour.com. The walkthrough which included a step-by-step guide on navigating the website was followed by a 40-minute Q&A portion where vendors threw in questions related to changing details in already-submitted e-invoices, terms of payments, and troubleshooting log-in issues.
The team who worked on the new system is composed of Tessa Villanueva, Michelle Darlucio, Justine Mondelo of Finance and Cyrene Buenaventura and Denise Tirthdas of Procurement and Materials Management.
Through e-invoicing, all suppliers, subcontractors, and service providers can now track the real-time progress of transactions and gain prompt responses on the resolution of issues. This move to automate the company's billing and payment processes is seen to contribute to quicker transactions, fewer errors and delays, and a more accurate vendor transaction management.
Procurement Head Randolf T. Rellera shared, "This marks an important milestone in our continuous improvement journey. We did this to simplify our processes because we want to be spending more time on the delivery of materials and services, instead of paperworks. We also want this system to improve transparency and lessen account reconciliations and hope this will be a big step forward in our documentation and invoicing system."