First Balfour, in a memo dated 16 August 2022, announced the formalization of a Technical Working Group (TWG) to plan, implement, and monitor the company's corporate sustainability initiatives. The TWG, composed of members from various departments and divisions, will be attached to the Strategic Business Planning (SBP) Department led by Vicente M. de Lima II.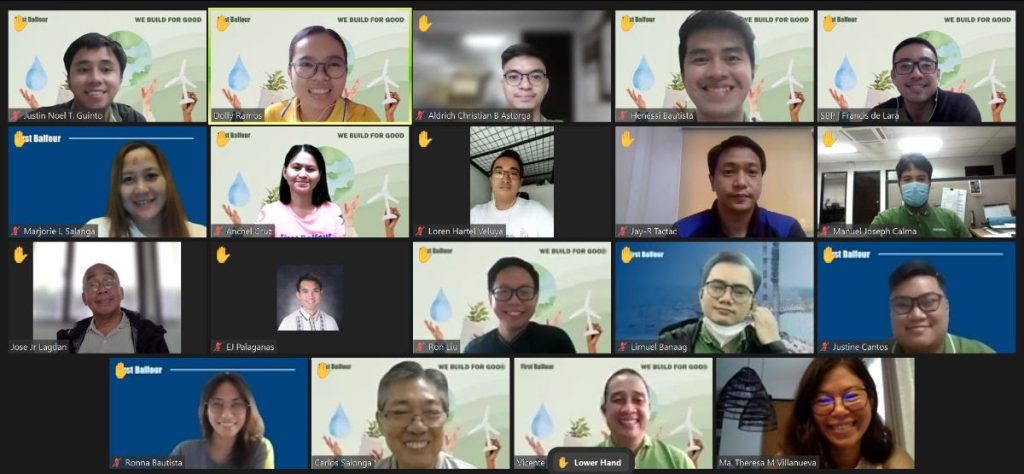 Since 2016, its parent company First Philippine Holdings (FPH) has been publishing annual reports which summarize the aggregated operations and sustainability reports of all its subsidiaries. To gather and submit data on First Balfour's operations, TWG members were normally convened then to take up tasks in an ad hoc capacity.
Tasked to convene twice a month to streamline the sustainability reporting process and discuss significant updates, the TWG will be in charge of strengthening First Balfour's systems in capturing and analyzing environmental, social, governance (ESG) data; submitting the progress on targets committed to partner institutions (i.e. Net Zero Carbon Alliance, Council for Inclusive Capitalism); and leading First Balfour's mission-related activities.
de Lima, in his new role which he will take in a concurrent capacity alongside SBP and Corporate Communications, shares, "The beauty of this is that we are not forming a new department. What we have here are several departments collaborating in a systematic manner. With all these talents and resources, First Balfour can deliver on its mission to build a more livable and inclusive future. Thankful indeed for the collaboration and support from all our leaders and TWG members."