Engr. Jericho Agus and Arch. Christine Velez received their Leadership in Energy and Environmental Design (LEED) Green Associate Certification from Green Business Certification, Inc. (GBCI) last April 13. One of the two LEED Professional Credentials, the LEED Green Associate certification is given to individuals who have core competencies in the most current green building principles and practices. Jericho and Tin now join over 70 other professionals with the same LEED credential in the Philippines.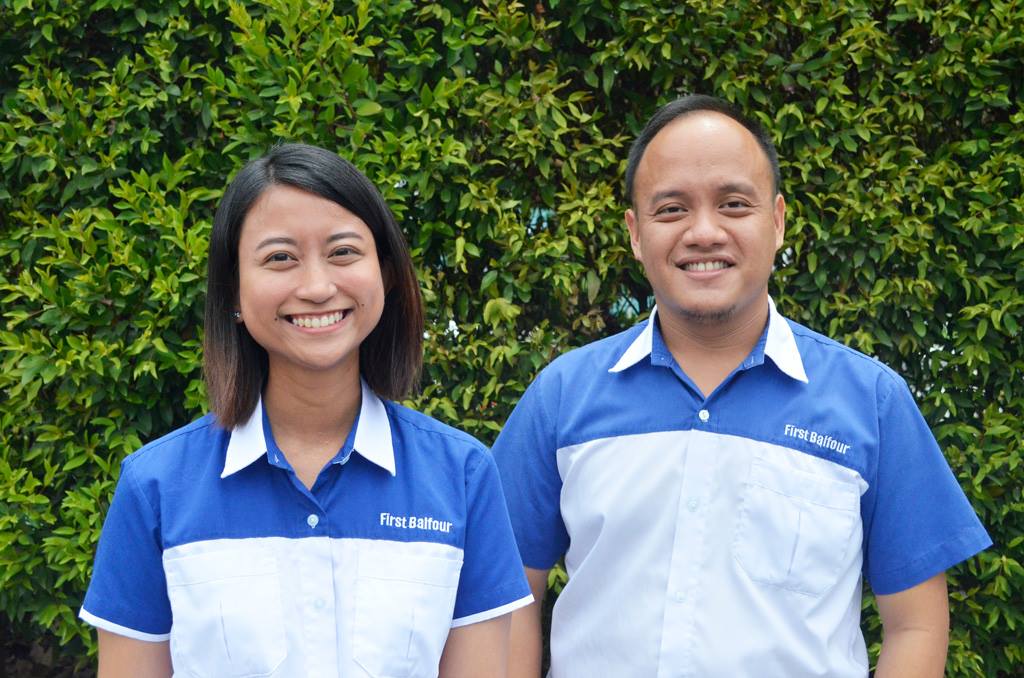 "Around this time last year, Tin and I were tasked to research about the LEED rating system. We were told the company is eyeing a very important building project which requires a LEED contractor," shares Jericho. Months after, they found themselves in a six-week LEED Green Associate Exam Review Course with eight other First Balfour employees from Procurement, Business Development, and Technical Services. Facilitated by "Building Physicist" Carmelito Tatlonghari who has a LEED Accredited Professional (AP) with specialty in Building Design + Construction (BD+C) Certification, the course explained the principles of LEED, its various rating systems, requirements, and sustainable construction practices among others.
LEED is a third-party verification system for green buildings developed by the U.S. Green Building Council (USGBC). Similar to the Philippine Green Building Council's Building for Ecologically Responsive Design Excellence (BERDE), LEED includes a set of rating systems for the design, construction, operation, and maintenance of green buildings, homes, and neighborhoods. It is the most widely used green building rating system in the world and is a globally recognized symbol of sustainability achievement.
Months of studying the LEED for BD+C Reference Manual paid off as both achieved scores above the passing rate of 170 points out of the 200-point questionnaire. "To get to the next credential level, the LEED AP with specialty, we would have to undergo an apprenticeship in a LEED registered project. This is something I really look forward to so we can apply the concepts and principles we have learned," shares Tin. In the future, both of them will be assigned to First Balfour projects with LEED requirements.
Currently, there are over 90,000 LEED projects in more than 150 countries and territories around the world. In the Philippines, there are more than 140 LEED-certified projects including the Asian Development Bank complex, Texas Instruments Clark, and Shangri-La at the Fort. By being resource-efficient, by producing lesser waste, and by providing a healthier and safer space, LEED projects are better for the environment. More importantly, a LEED-certified project demonstrates the values of the organization that own and occupy them – one that cares about making this planet a healthier place to live in.