Seventy percent of the First Balfour workforce including employees and direct workers are now fully-vaccinated against COVID-19.
Head of HR Compensation and Rewards Abigail Lavapie, who leads the vaccination master listing team for First Balfour, said on Monday that 2,302 employees, or 70 percent of the company's workforce totaling 3,286 as of October 31, have already completed two vaccine doses. Lavapie also said over 600 more employees are just waiting for the schedules of their second dose. "Right now, we are looking forward to a full vaccination rate of 90% by December," she added.
Health experts had earlier increased its target COVID-19 vaccination rate from the initial 70% to 90% after the highly-transmissible Delta variant ramped up herd immunity thresholds for the disease.
The vaccination milestone was primarily driven by Vac2Normal, the corporate vaccination initiative of its parent company First Philippine Holdings (FPH), which was launched in July 2021. COVID-19 vaccines were earlier procured by FPH through multiparty agreements with vaccine manufacturers AstraZeneca and Moderna, in partnership with the Philippine Government. Other employees, meanwhile, were able to secure doses through their respective LGUs.
First Balfour vaccination data indicate that 4 of 18 ongoing projects already have 100% vaccination rate as of November 15 while 3 more projects will be 100% fully-vaccinated in the coming weeks. The rest of the projects have a full-vaccination rate ranging from 72 to 96%.
"We also see a handful of projects, particularly in Sorsogon, Dumaguete, and Kidapawan, where some workers are still not willing to get vaccinated. We are doing everything we can to educate, influence, and hopefully convince them to register and get their vaccines," Lavapie added.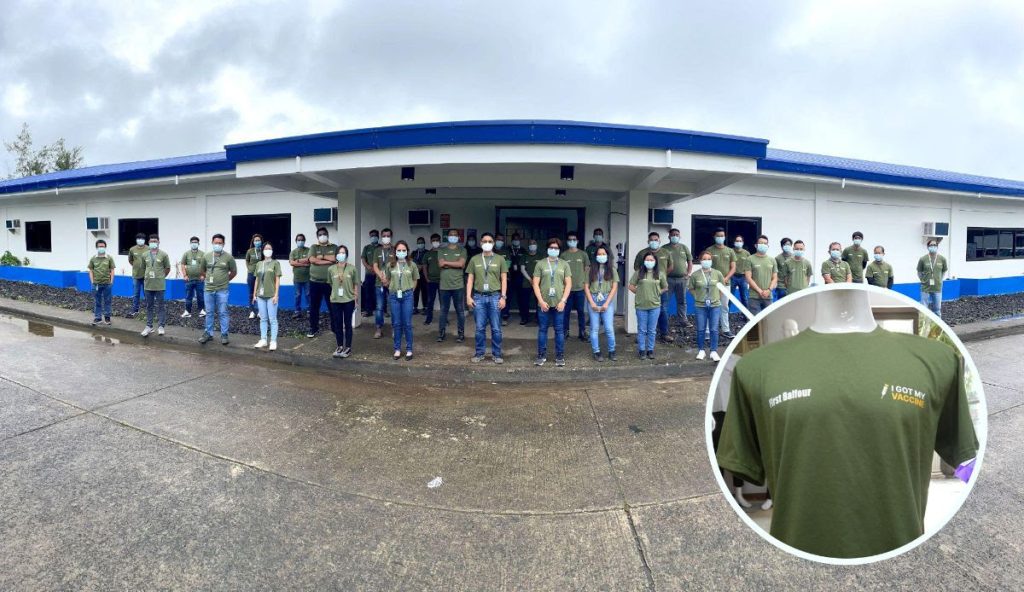 FPH has also begun master listing for what it calls Phase 3 (adolescent vaccination) and Phase 4 (booster shots), subject to the issuance of guidelines by the country's health department. To get updates, read the weekly COVID-19 Bulletin released by Corporate Communications every Tuesday morning.
Occupational Health (OH) Physician Dr. Rhyan Gallego shares, "Although government restrictions have slowly eased and we see the decreasing number of new cases in First Balfour and nationwide, the OH Team has been tirelessly reminding our employees that the virus is still here and that we need to continue following public health standards. Even after getting vaccinated, keep taking precautions." Over the past weeks, First Balfour has also seen a decline in its COVID-19 cases with only two active cases reported in the latest weekly crisis management meeting. "To those who have not received any vaccine yet, I strongly encourage you to get yours as soon as possible not only to protect yourselves, but your loved ones too," he adds.