Nearly 500 employees and their dependents received their first dose of COVID-19 vaccines at the First Balfour Head Office vaccination site in Paranaque City last July 30-31. The program is part of Vac2Normal, the wider corporate vaccination initiative of its parent company First Philippine Holdings (FPH).
Vaccine administration provider Reliance United has inoculated a total of 462 individuals including staff, workers, and their dependents and household members. There were 55 employees who received Moderna while the rest were given AstraZeneca.
Executive Secretary Marirose Dalawampu, who brought her two dependents to the site, shared, "The whole vaccination process had been easy. I think it only took me around 30 minutes to register and get vaccinated. I was actually expecting a crowd similar to our pre-pandemic annual physical exams so I was surprised to see a very limited number of people in the area. Seeing my colleagues in person after more than a year was a bonus. Thank you to the vaccination committee and everyone who made this happen!"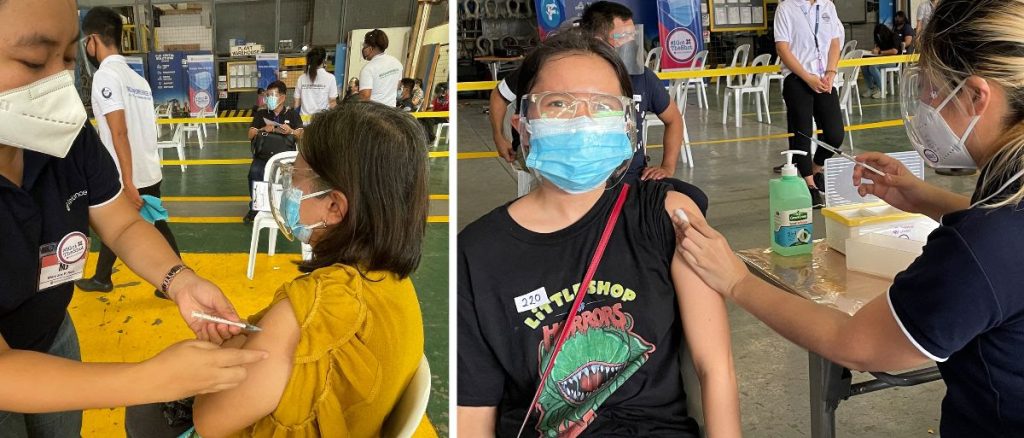 On preparing the vaccination site, Occupational Health Physician Dr. Rhyan Gallego shared, "We really wanted our employees and guests to have a stress-free vaccination experience. We assigned marshalls in every corner to make sure questions and concerns were immediately addressed. Huge signages and directional signs were also put up at every step of the way to guide our vaccine recipients. All these were made possible with the help of our HR-Administration Lead Jay-R Tactac and the members of the Corporate Vaccination Working Group."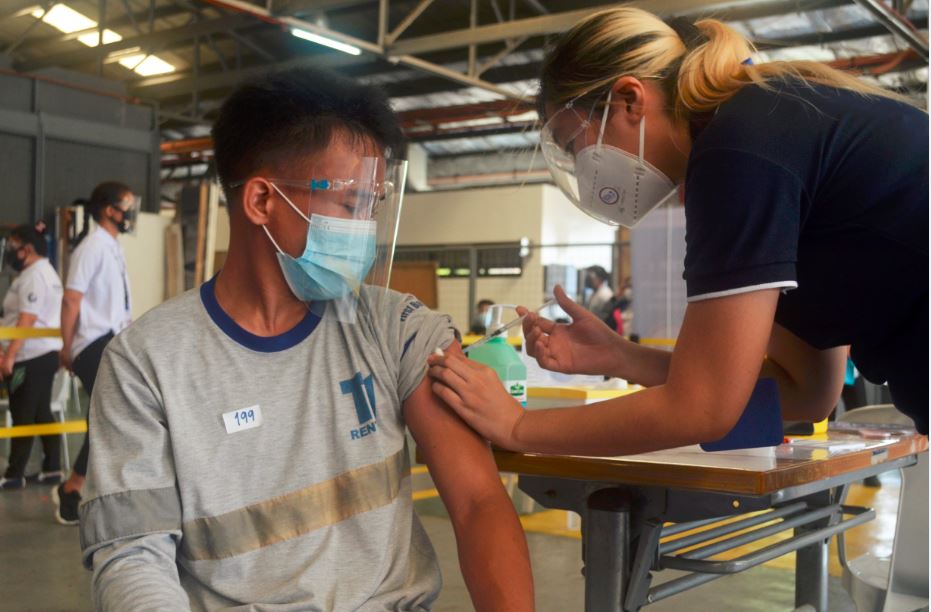 Meanwhile, First Balfour employees, along with those from other FPH subsidiaries First Philippine Industrial Park, First Philec, and ThermaPrime were among those who participated when FPH started its vaccine rollout inside the First Gen Clean Energy Complex (FGCEC) in early July. The vaccine recipients in the FGCEC site also included dependents and extended workforce.
COVID-19 vaccines were earlier procured by FPH through multi-party agreements with vaccine manufacturers AstraZeneca and Moderna, in partnership with the Philippine Government. Aside from Reliance United, FPH also tapped AC Health as a third-party vaccine administration provider to handle the vaccination in its headquarters and in offices and sites of its subsidiaries.
To date, 37% of more than 3,000 First Balfour employees and workers have had at least one vaccine dose. Of the 763 Core Business Employees (CBEs), 212 or 28% have had their first dose while 45 or 6% have been fully vaccinated. "As vaccination for the rest of the FPH vaccine sites are now underway, we hope to see this number increase by the last quarter of 2021. We also rely on the arrival of the vaccines FPH procured but I am confident the Group will implement inoculation schedules as swiftly as we get access to them," shared HR-Compensation & Rewards Lead Abigail Lavapie who is managing the vaccination master listing for First Balfour.
Aside from acquiring the vaccines, FPH and its subsidiaries implemented different facets of work modifications to adapt to the "new normal" that stemmed from the pandemic. New work arrangements for First Balfour included setting up shelter-in-place facilities for its critical project personnel, technology-based contract tracing solutions and collaborative work tools, and putting forth policies highlighting people safety as priority.