For the 15th straight year, First Balfour has been certified by TÜV SÜD PSB Philippines, Inc. for its compliance with the requirements of ISO 14001:2015 Environmental Management System (EMS) and OHSAS 18001:2007 Occupational Health and Safety Management (OHSAS).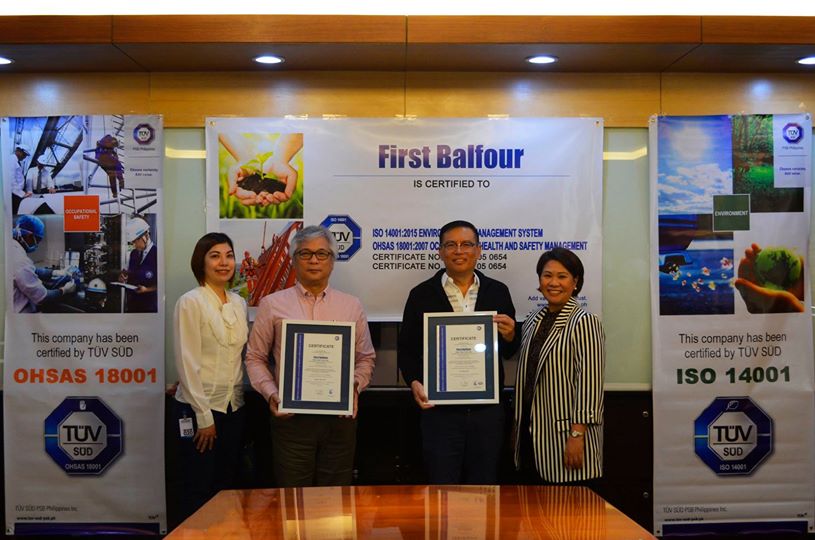 Following a successful transition audit to the 2015 standard of ISO 14001 and a re-certification audit under OHSAS 18001 in June 2018, the company finally received its new ISO certificates in a handover ceremony last Thursday, 13 September 2018.
"These certificates reaffirm First Balfour's position as a quadruple A construction and engineering company that subscribes to the highest level of ESH standards and practices, qualities that will surely continue to make us the partner of choice in the industry," shared Head of Environment, Safety, and Health (ESH) Reynold A. Arce. 
TUV SUD auditors were highly appreciative of the company's environmental performance, its programs on health and safety, its communication dissemination, and the support of the top management in the implementation of these initiatives.
"In terms of EMS, we have seen First Balfour's commitment to reducing the consumption of resources especially with its programs on energy, water, and waste management among others. Key requirements for OHSAS have also been well-established by the team. More importantly, the company's compliance to applicable requirements is also a good sign that all its systems are working," shared TUV SUD Lead Auditor Brenda Estonato.

The turnover ceremony was attended by top First Balfour executives, members of the ISO committee, and TUV SUD representatives.
First Balfour received both its first ISO 14001 and OHSAS 18001 certifications in 2003, a year after it received its first ISO 9001 certification, making it one of the first triple ISO-certified construction companies in the Philippines.