Following a successful heavy equipment auction at the start of the year, T1 Rentals will again be selling more than 40 units of various used heavy equipment in its year-end auction happening on 14-25 November 2022. The auction will simultaneously be held online and onsite to give bidders the option to view equipment either through their website or in T1 Rentals' yards in Paranaque City, Mandaue City, and Davao City.
"Our year-end auction is a great opportunity for customers around the country to source high quality and rigorously maintained heavy equipment and vehicles from the world's top brands," said T1 Rentals Supply Chain Manager Richelle Bernal. The auction will feature service vehicles including AUVs, military-spec jeeps, 4×4 pickup trucks, a selection of excavators along with their various attachments, tower cranes, wheel loaders, boom trucks, tractor heads, and various trailer configurations. T1 Rentals Marketing Manager Kevin Buenaseda also shared, "We've seen a steady growth of buyers from around the country attending our online auctions over the last two years and we expect that trend to continue."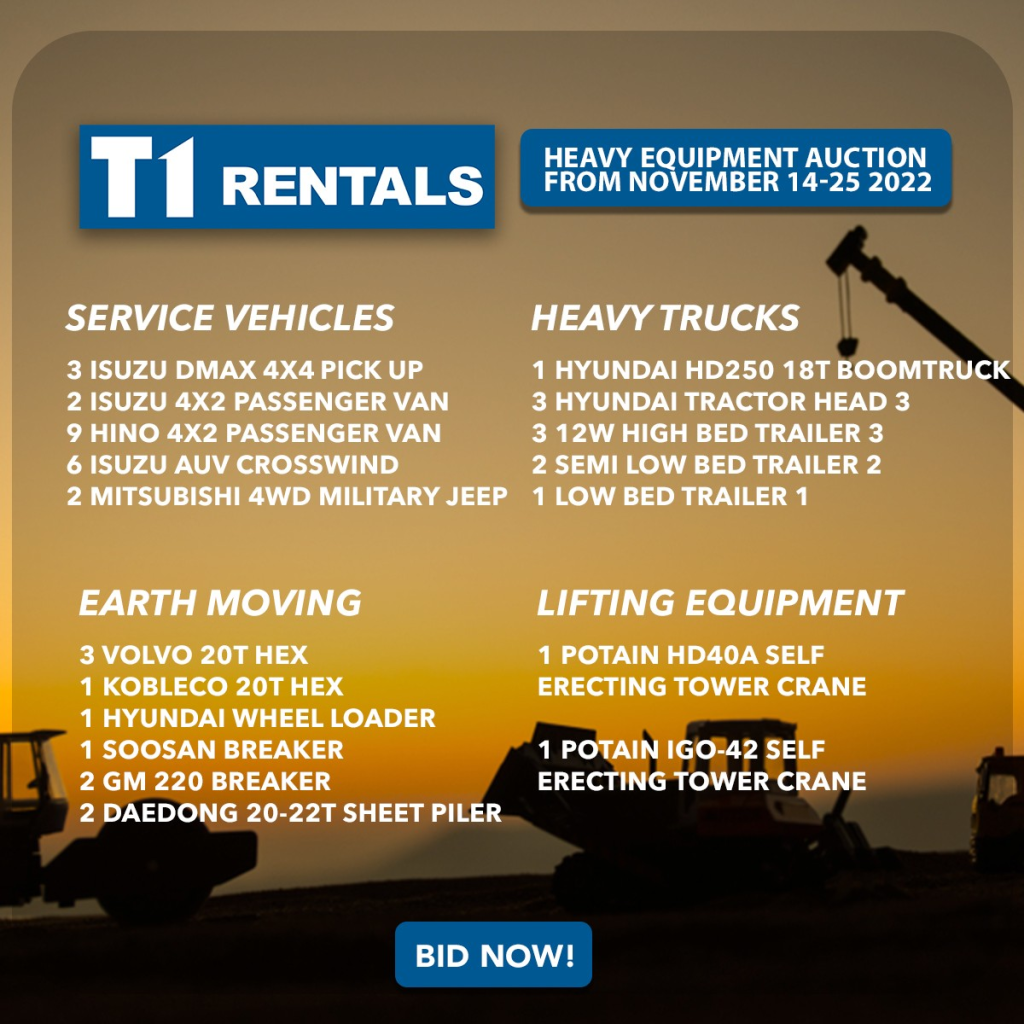 As to the brands and models of heavy equipment on auction, these include two units of 2019 Volvo EC210B, a 2020 Volvo EC210Bm, and a Kobelco SK210LC. For lifting equipment, there are two units of Potain self-erecting tower cranes, a Potain HD401, and a Potain IGO-42. Other equipment and their details may be viewed on the T1 Rentals' online auction page where interested buyers can view and inspect the equipment in the comforts of their own homes or offices. Bids can be made online in real time at T1Rentals.com.
The online auction will begin promptly at 8:00 a.m. local Manila time on 14 November 2022. For those who will opt to go onsite to personally view the equipment up for bidding, they may set an appointment anytime from November 14 until November 25 only. Onsite bidders who enter the T1 Rentals facility must ensure that they observe physical distancing and follow health protocols.
For inquiries, scheduling of appointments, and questions regarding the online and onsite bidding process and other details, please contact Colleen Las Marias at +63917 150 0581.