PCA Foundation (PCAF), the training arm and program enabler of the Philippine Constructors Association (PCA), continues to offer programs that meet workforce needs essential to pushing the Philippine construction industry to become globally competitive. Established in 1997, its vision centers on education for the construction industry by providing training and continuing education opportunities for construction professionals. PCAF's president is currently our own President and Chief Operating Officer Anthony L. Fernandez.
One of PCAF's projects is the Construction Supervisors Training Program (CSTP) which resulted from a Memorandum of Agreement (MOA) between the Technical Education and Skills Development Authority (TESDA) and PCA in 2018. Mapped against the professional standards of the UK Technical-Vocational Education (UKTVET), the program aims to create qualified, globally-competitive, and job-ready construction supervisors and assistant construction supervisors. Under the MOA, TESDA has allocated 2,000 scholarship vouchers worth PhP 30 million in total. To date, PCAF already has a total of 660 graduates under this program.
PCAF Program Manager Earl Segales shares, "For CSTP, participants may be current and/or potential lead men and foremen, project supervisors, project engineers, and field architects. They will have to undergo 128 hours of lectures and 640 hours of apprenticeship from our training delivery partners called Recognized Training Partners (RTP)." These RTPs are also accredited by TESDA either as a technical-vocational institute (TVIs) or as an enterprise-based training center.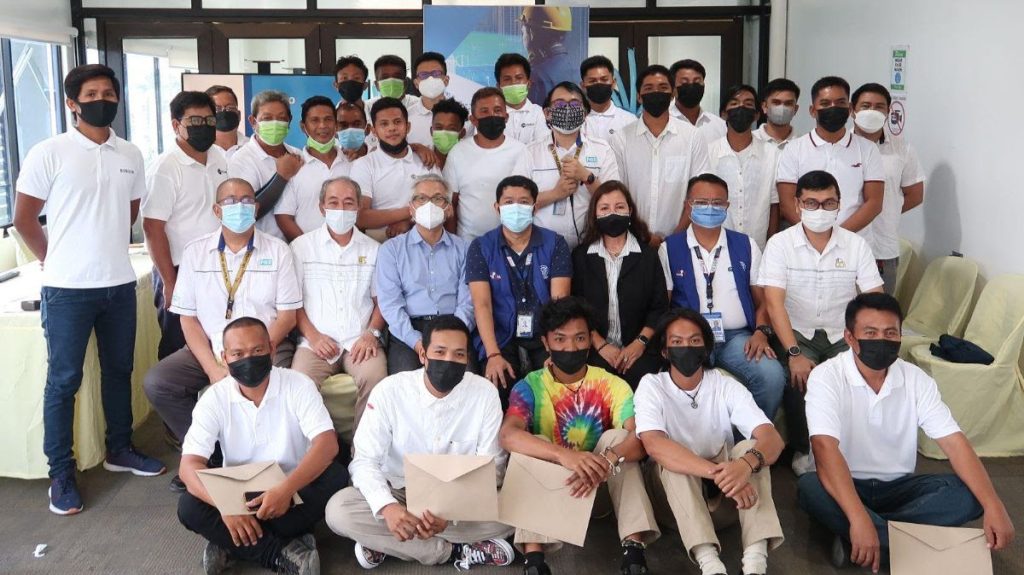 To date, PCAF has held a total of 26 CSTP batches nationwide and is growing at a pace of at least 4 batches every year. These have been sponsored by the tech-voc institutes of leading contractors such as the D.M.Consunji Technical Training Center in Taguig and the Technical Vocational Center, Inc. (TVCCI) in Cebu. Some of its enterprise-based training providers are local construction firms like DATEM (Quezon City), Monark Foundation (Quezon City), R.D. Policarpio & Co. (Pampanga), G. Uymatiao Jr. Construction (Negros Oriental), RACCT Construction & Trading (Negros Oriental) Allado Construction Company (Davao), L.V. Ledesma Construction (Davao), and FGM Builders Resources & Developers Corporation (Davao).
PCAF's journey towards capacity-building has also led to the launch of the Pambansang Treyners ng Konstruksyon (PTK) Program aimed at establishing a national pool of trainers who are construction industry experts and practitioners in their respective companies. The Train-the-Trainer Program, one of the two components of PTK, centers on the subject content of the CSTP. Both the CSTP and the Train-the-Trainer Program have an assured program status from the Institute of Learning and Management (ILM), UK's leading provider of specialist leadership qualification.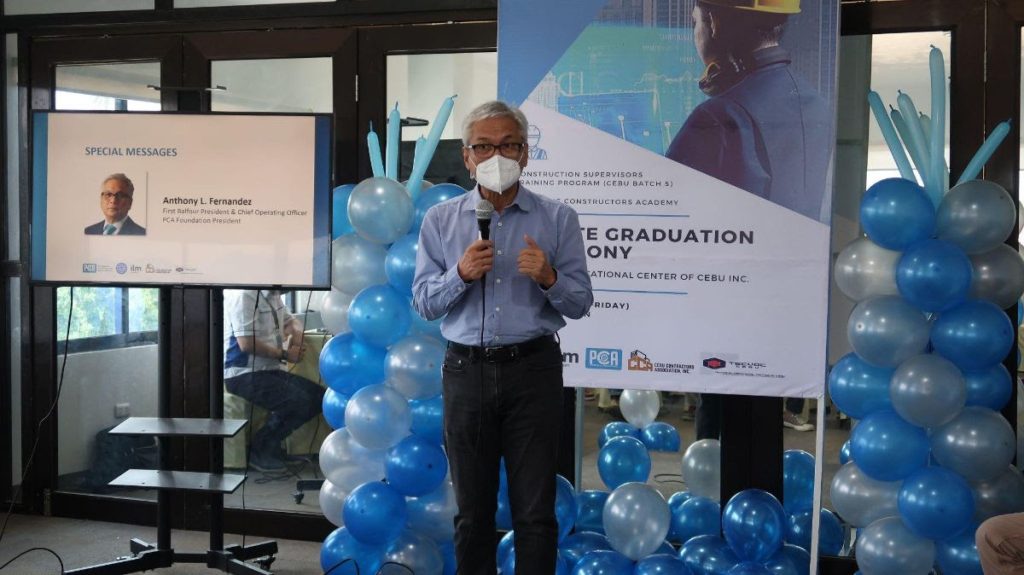 Construction is one of the top industries that the national government is banking on to lead the recovery from the pandemic. And while the country has very intelligent and hardworking engineers and managers, the foundation recognizes that productivity still needs to be improved—a major component which they hope to address through their initiatives. In his message, Fernandez asks the graduates to keep in mind two things. "First, you have learned so much in the past so many weeks, so use this knowledge to try to help the industry become more productive. Second, spread the word that you have learned because there are more than a million construction workers all over the country and we still have a long way to go. You are our ambassadors to spread the word of improving productivity."
Aside from CSTP, PCAF also offers a Construction Program Management (CPM) Course Masterclass, a 10-day course where participants have a unique opportunity to hear and learn from the masters in the engineering and construction industry. To date, there are already 89 PCA-certified construction program managers including our own Paolo Sapinoso and Edward Agustines. As part of its 2022 masterclass series, the foundation has also launched a masterclass for quantity surveyors entitled Masterclass in Quantity Surveying together with its affiliate member, the Philippine Institute of Certified Quantity Surveyors (PICQS).
PCA, through the leadership of President Wilfredo Decena and Executive Director Barry Paulino, is supporting PCAF's mission to train and future-proof the workforce in the construction industry as the sector faces a shortage in skilled personnel. "We cannot just build, we have to build better and in order to do that, we need to have a more skilled workforce and Filipino construction firms that can compete globally with international firms. This is why PCA continues to be bullish in creating regular webinars that will help impart new knowledge on processes and skills to the industry," shares Decena.
Because of the challenges brought about by the pandemic, PCAF has also started to offer eCSTP—a program purely delivered online with the same purpose of equipping construction professionals with skills to help them master their craft and improve productivity. There are four upcoming eCSTP batches scheduled in June in Quezon City, Pampanga, Negros Oriental, and Cebu. Find out more about PCA activities and updates by visiting their website at https://www.philippineconstructors.org/ and their official Facebook page.