The Novaliches-Balara Aqueduct 4 (NBAQ4) Project was hailed as the overall winner in the 2nd Philippine Excellence in Concrete Construction Awards (PECCA) besting six other construction projects in an awarding ceremony held yesterday, 9 June 2022. This achievement made NBAQ4 one of the official nominees of the Philippines to the American Concrete Institute (ACI) International Excellence in Concrete Construction Awards which will be held in Dallas, Texas later this year.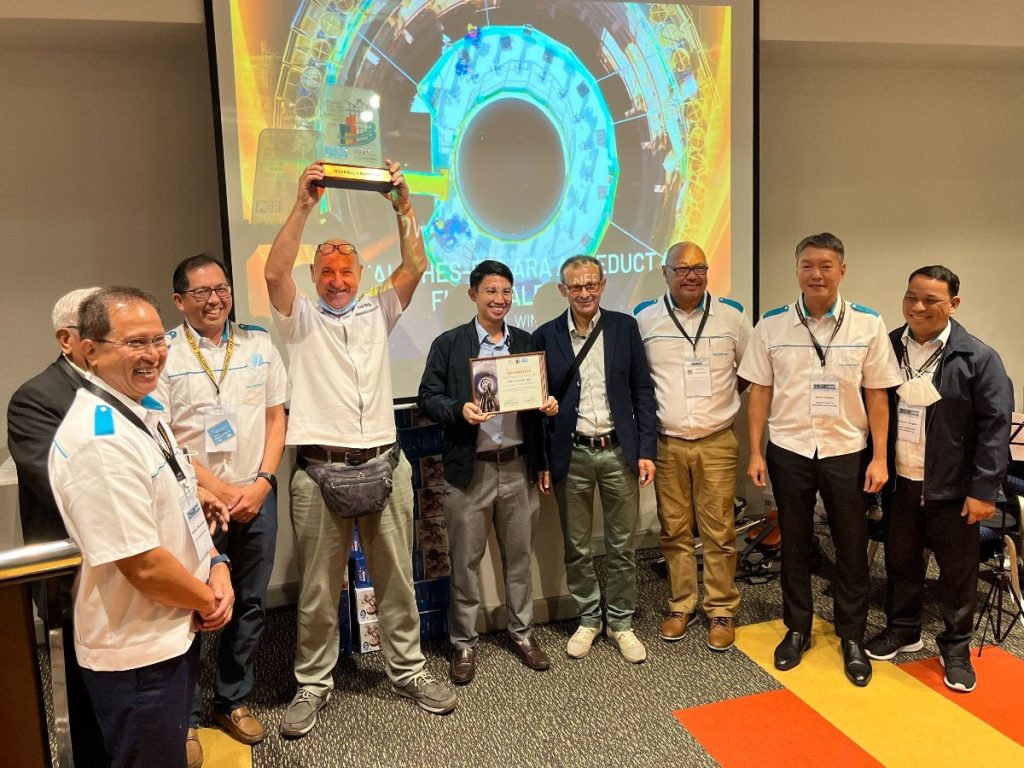 Organized by the ACI Philippines Chapter and the Philippine Constructors Association (PCA), PECCA aims to recognize outstanding concrete projects in the Philippines that celebrate innovation and technology and inspire excellence throughout the global concrete design and construction community. Nomination entries—concrete construction projects substantially completed between January 2019 through December 2021—were judged following four criteria: engineering, functionality/creativity, aesthetics/appearance, and innovative use of concrete. NBAQ4's nomination entry was penned by project team members Emil Teodoro (former Planning Engineer), Amadeo Delos Reyes (QA/QC Manager), and Abram Veloria (Planning Engineer), with the guidance of Project Director Rod Scott.
Apart from the overall award, NBAQ4 also won in the Infrastructure Category, one of PECCA's seven nomination categories including Low-Rise Structure, Mid-Rise Structure, High-Rise Structure, Repair and Restoration, Decorative Concrete, and Horizontal Category. Other category winners are De La Salle University's Shrine of St. John Baptist De La Salle (low-rise), Megawide Corporation's Plumera Cebu (mid-rise), Makati Development Corporation's One Ayala Avenue BPO Towers (high-rise), PICE-ASIP-UPDSC's Molave Residence Hall renovation (repair and restoration), Datem's Urban Hive Palms (decorative), and J.Vaz.Co's Leyte Hall (horizontal).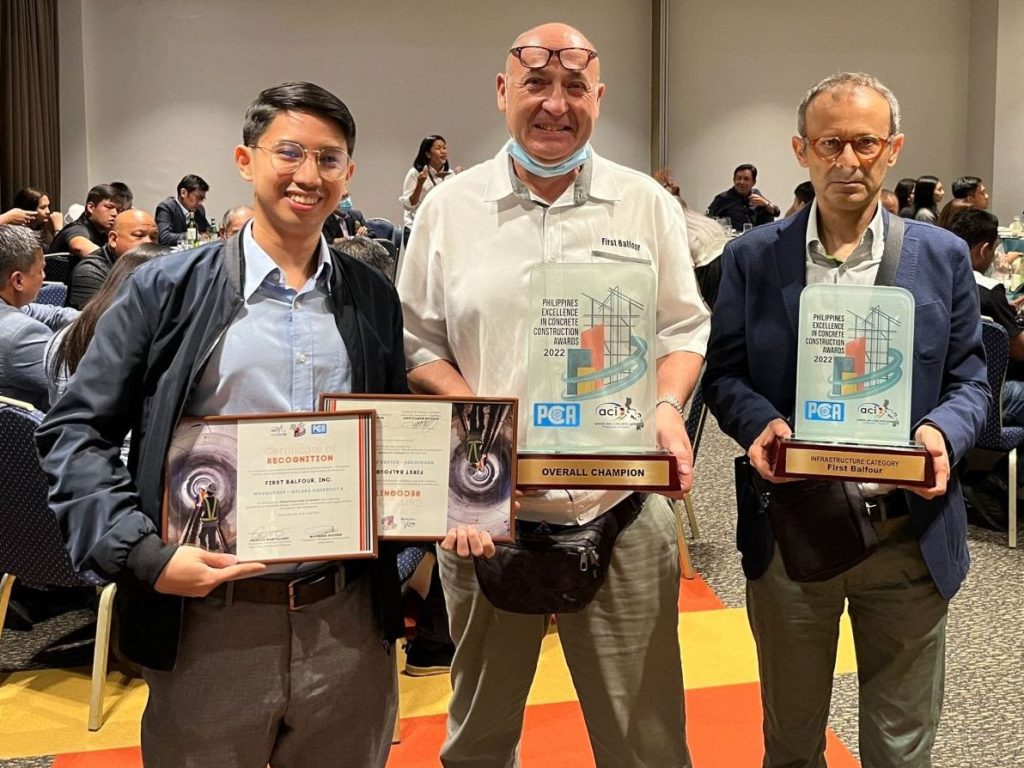 NBAQ4 Project Director Rod Scott shares, "I am very proud to accept this award on behalf of the Novabala Joint Venture, CMC-First Balfour-Chun Wo. This is the result of many years of planning, hard work, and commitment by our team to deliver this world-class project. None of this would be possible without the support of Manila Water and Arup along with our designers GHD and CEC and the the input from our numerous specialist subcontractors Bauer, Luzviminda, Exponent, HiTri, Aquajem, Flowtork, and Frey-Fil. It demonstrates without doubt the capability of Philippine contractors to perform in complex and challenging infrastructure projects. The immense challenges of this project were overcome through perseverance and determination by our team, with more than 70% of the project being completed through the COVID-19 pandemic."
The NBAQ4 Project used approximately 37,000 cubic meters of concrete and grout in various phases of construction including concrete production for the intake tower, access bridge, access roads, retaining wall, and electrical building at its site in La Mesa; and for the outlet tower, downstream distribution network, access roads, and electrical buildings at its Balara site. Of the complex concrete and grouting requirements for this project, the most challenging was the precast segment production and grouting for the tunnel lining.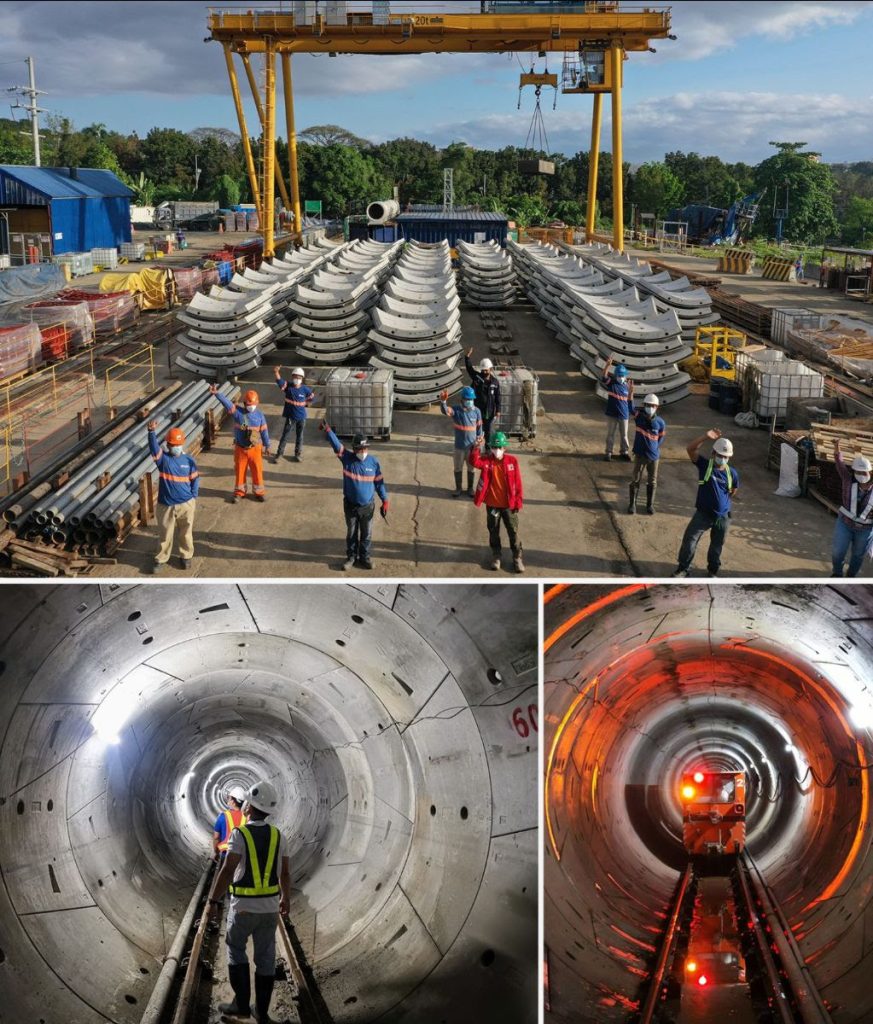 The TBM tunnel comprises 6,194 rings or a total of 37,164 precast segments. The demoulding strength for each precast ring was designed to be achieved within 9 hours after placement. This period was reduced to 6 hours using improved design mixes to maximize precast ring production without compromising the quality of the concrete. The increase in production supported the team's acceleration plan for tunnel works, which was completed four months ahead of contract schedule.
The NBAQ4 project is part of Manila Water's improvement and expansion initiatives in the East Concession Area in coordination with the Metropolitan Waterworks and Sewerage System (MWSS). The largest and most important infrastructure projects undertaken by Manila Water to date, it involved the construction of a new intake facility at the La Mesa reservoir, a 7.3-kilometer underground aqueduct passing under Commonwealth Avenue, an outlet facility and a distribution network system integrating the new system to the Balara Water Treatment Plant. A Tunnel Boring Machine (TBM) was used to build the aqueduct – for the  first time in the Philippines a TBM was used in an urban setting. Once completed and commissioned, the new aqueduct will be capable of delivering 1,000 MLD (1 million cubic meters/day) to the treatment plants ensuring the reliability and security of its raw water transmission system to Metro Manila.