The Tunnel Boring Machine (TBM) that was used to construct the Novaliches-Balara Aqueduct 4 (NBAQ4) has completed its work as it emerges at the La Mesa Reservoir this August. Launched at the Balara Treatment Plant 2 on January 28, 2020, the TBM "Dalisay" laid a 7.3-kilometer long, 3.1-meter diameter pipe underneath Commonwealth Avenue without inconvenience to traffic. This project is the first to use this technology in Metro Manila. The Metropolitan Waterworks and Sewerage System (MWSS) used a similar machine for constructing Tunnel 4 of the Angat Water Tunnel Improvement Project (AWTIP) in Norzagaray, Bulacan.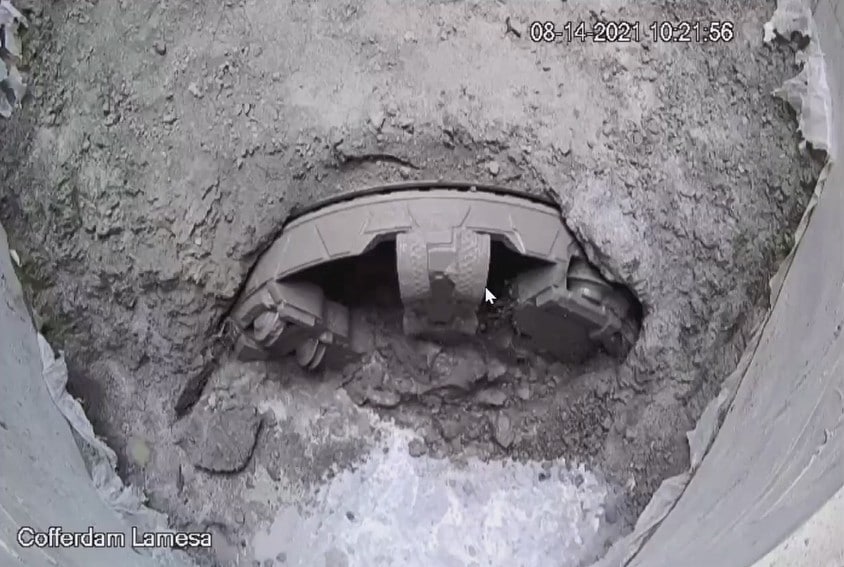 In a ceremony held to celebrate this milestone, guests onsite and those that attended through Zoom witnessed the exposure of Dalisay's cutter head from the soft concrete at the exit shaft at the La Mesa Reservoir (photo above). Present onsite were the NovaBala JV project team led by Project Manager Rod Scott and joining through Zoom were MWSS Board of Trustees Chairman and OIC-Administrator Gen. Reynaldo Velasco (Ret.), MWSS-Deputy Administrator, Engineering and Technical Operations Group Jose Dorado, MWSS Field Operations Management Department Manager Jun Escoto, Manila Water Company Chief Administrative Officer Roberto R. Locsin, Manila Water Corporate Project Management Group Director Robert N. Baffrey, Manila Water East Zone Chief Operating Officer Abelardo Basilio, Manila Water Non-East Zone and International Business Chief Operating Officer Melvin John Tan, and the rest of the Manila Water project team.
Once completed in June 2022, the NBAQ4 will help ensure continuous water supply for more than 7 million population served in the East Zone concession area of the MWSS.