For the 19th straight year, First Balfour has maintained its compliance with the requirements of ISO 9001:2015 Quality Management System (QMS), ISO 14001:2015 Environmental Management System (EMS), and ISO 45001:2018 Occupational Health and Safety Management System (OHSMS).
TÜV SÜD PSB Philippines, Inc. formally approved the maintenance of the QMS certification following a successful surveillance audit last September 21. Head of Corporate Quality Joey Lagdan gladly shares, "For the second straight year, there were no major or minor non-conformities found during the remote audit. An onsite audit in one of our projects will be held by October this year and we hope to have zero non-conformities too. Kudos to our Internal Audit Team and all the support departments who have painstakingly worked hard to comply to the mandatory requirements. The positive outcome of this surveillance audit is a clear manifestation of our solid commitment to continuous improvement."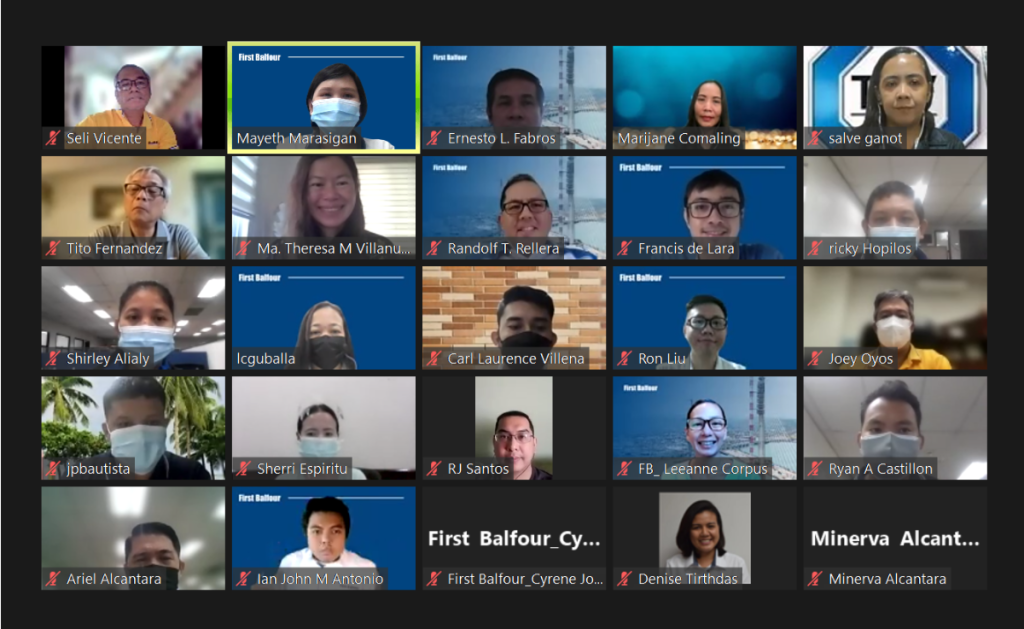 In the closing meeting (pictured above), Lead Auditor Marijane Comaling shared that they found six opportunities for improvement and two positive aspects. Aspects that merited recognition include the continuous implementation of online systems to accommodate various client requirements and the management's thrust towards a decarbonized and regenerative future, a clear indication of a responsible business philosophy. "Despite the pandemic, the organization has maintained a positive bottomline for 2020. It is also worth noting that its performance for 2021 is indicative that the effects of the pandemic are well-managed and that First Balfour has an impressive business recovery," she added.
Meanwhile, TÜV SÜD also recommended the company's recertification to the environmental and occupational health standards after the successful recertification audit last September 22-24. The news was announced during the audit closing ceremony last Friday (pictured below), attended by First Balfour executives, TÜV SÜD auditors, and department representatives.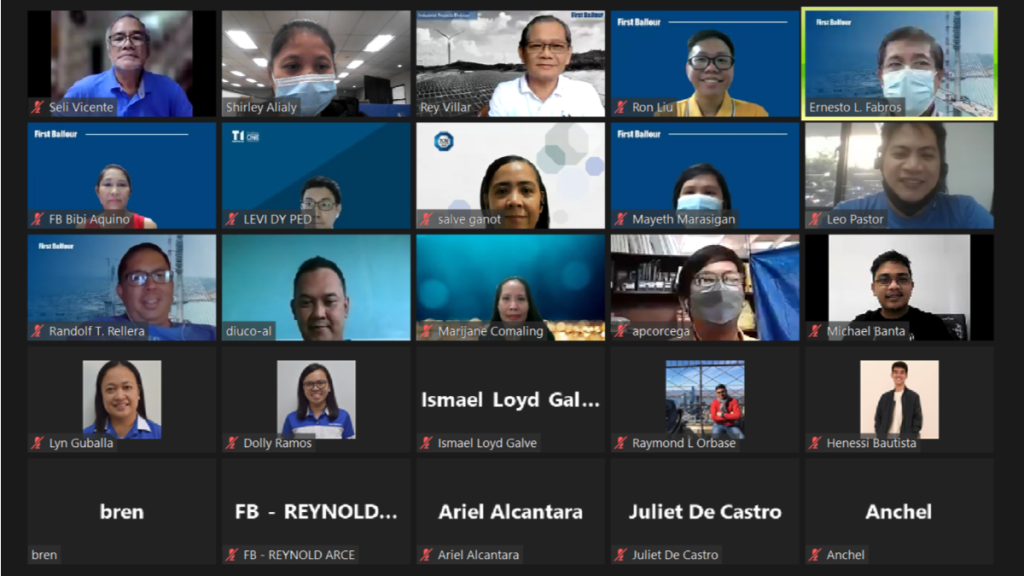 Audit findings, as shared by Lead Auditor Albert Diuco, showed zero non-conformities for both the EMS and OHSMS standards, a first time this has happened since 2003. There were a total of five opportunities for improvement and a positive aspect for each standard. "The goal to reduce the carbon footprint of the organization as they work towards a clean, green, and sustainable workplace is truly commendable. For occupational health and safety, its intensive and progressive COVID-19 preparedness and response readiness have been great tools for business continuity. The company has shown its support to its employees through various programs including online contact tracing, mental health and wellness initiatives, and COVID-19 vaccination," Diuco shared.
In his closing, Head of Environment, Safety, and Health Joselito L. Vicente shared, "Thank you to the whole First Balfour team. Over the years, each one of us has contributed to the vast improvements when it comes to the way we are operating our business. This is the difficult part now, to sustain the good performance and maintain our best practices going forward."
First Balfour received both its first ISO 14001 and OHSAS 18001 certifications in 2003, a year after it received its first ISO 9001 certification, making it one of the first triple ISO-certified construction companies in the Philippines.