By Energy Development Corporation
Lopez-led renewable energy leader Energy Development Corporation (EDC), through its BacMan Geothermal, Inc. subsidiary, is breaking ground today to officially commence the construction of its 29MW Palayan Binary Power Plant project and provide that much needed additional supply of clean, reliable, stable power to the country by December 2022.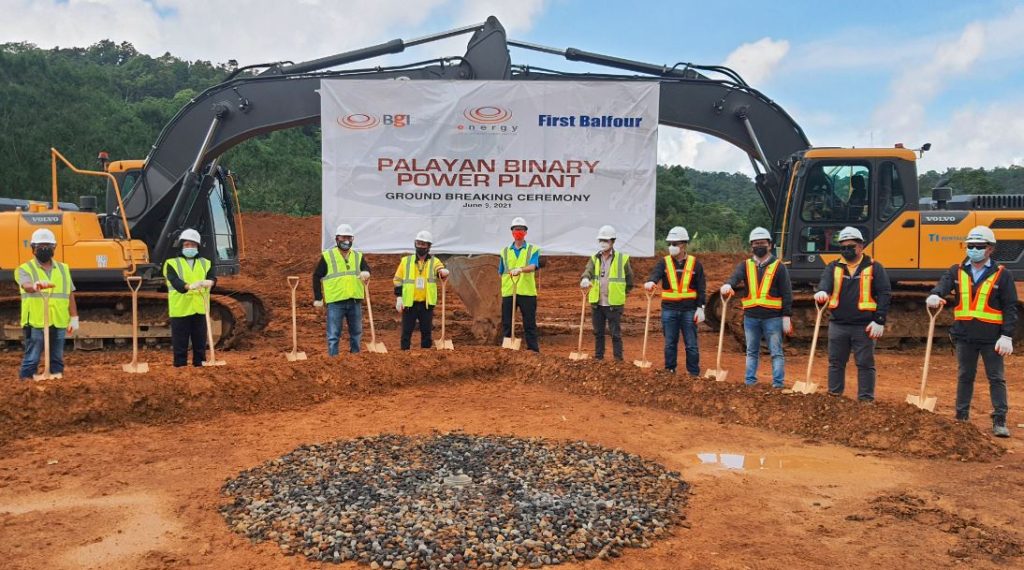 The ceremony that will be held simultaneously in Brgy. Nagotgot and via Zoom will be graced by EDC President and Chief Operating Officer Richard B. Tantoco, EDC Senior Vice President and Head of Facilities, Operation and Maintenance Liberato S. Virata, and stakeholder partners led by Energy
Undersecretary Emmanuel P. Juaneza, Albay Governor Al Francis Bichara, Manito Mayor Joshua Mari Daep, Department of Environment and Natural Resources Assistant Regional Director Rommel Sopsop, and PENRO Jerry Arena.
The Palayan Binary Power Plant (PBPP) project that will expand EDC's existing 130MW Bacon-Manito (BacMan) geothermal facility will generate 215.8 GWh of clean power and was awarded a subsidy from Japan as part of their Joint Credit Mechanism (JCM). This low carbon project is expected to reduce the country's carbon emissions by around 72,200 tonnes each year as it helps Japan reach its own CO2 reduction goals.
The project will make use of the waste heat from the 110MW Bacman-1 geothermal power plant to generate additional energy without the need for additional drilling. Heat from brine, which is usually produced from the wet steam operations, will be used to generate electricity by the new power plant before re-injecting back to the reservoir. It is expected to boost the local economy as it generates 600 jobs for the community.
The PBPP is one of EDC's projects in the pipeline that is critical to achieving its revitalized mission of forging collaborative pathways for a decarbonized and regenerative future. As it helps the country avoid carbon emissions in lieu of power from coal, it is expected to strengthen the company's initiatives in empowering its host communities through skills development and by providing additional livelihood opportunities.
A memorandum of understanding has been signed between EDC, Keitech Foundation, Technical Education and Skills Development Authority, the local governments of Sorsogon and Legazpi, and PBPP's construction contractor, First Balfour, for the skills development and values formation training of 120 qualified youth from the host communities of Bacman geothermal facility.
While EDC aims to supply clean, reliable, and renewable energy that is available 24/7 to its customers, the safety of its employees and contractors remains to be its top priority. Since the project started to roll-out in November 2020, right after getting the greenlight from the Department of Energy, no injuries or accidents were reported from the current 300 workers on-site.
"Safety is part of EDC's culture more so now that we are working to provide clean, stable, renewable energy to our customers, especially in critical industries, amid the pandemic. As such, all employees and contractors on-site are reminded that they are all safety leaders. Our family and friends depend on us and expect that we take care and get home, at the end of the day, in the same way that we came to work," said EDC President & COO Richard B. Tantoco.
The company and its contractors make sure that all workers on-site strictly follow the health protocols advised by the government to ensure safety from COVID-19. Regular random swab testing, physical distancing, and wearing of protective equipment like masks and face shields are strictly implemented at the site.
EDC's over 1,480MW total installed capacity accounts for 20% percent of the country's total installed RE capacity while its 1,181MW geothermal portfolio accounts for 62 percent of the country's total installed geothermal capacity and has put the Philippines on the map as the 3rd largest geothermal producer in the world.